Get tips and instructions for how to incorporate audio content into your classroom.
We welcome your input. Please contact us with any feedback.

Religious Passion Pluralism & the Young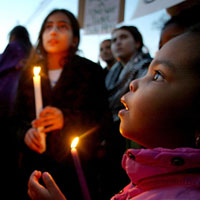 Al-Qaeda appeals powerfully to young people's need to be important and make a difference in the world. It is the most effective "youth program" in the world today says. Eboo Patel, a 30-year-old American Muslim, who wants to change that.

Resources in this Collection

Religious Passion, Pluralism and the Young
SHOW: On Being | Length: 51:19 | Audio Format: MP3
Classroom Materials