Get tips and instructions for how to incorporate audio content into your classroom.
We welcome your input. Please contact us with any feedback.

Whale Songs and Elephant Love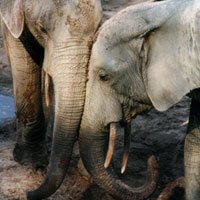 Trained as a musician, acoustic biologist Katy Payne was first to discover that humpback whales compose ever-changing song to communicate, and first to understand that elephants communicate with one another across long distances by infrasound.
Listen to her field recordings of elephants in the wild and whales underwater, and hear what she has learned from two of the world's largest and most mysterious creatures.

Resources in this Collection