Get tips and instructions for how to incorporate audio content into your classroom.
We welcome your input. Please contact us with any feedback.

Ethics of Eating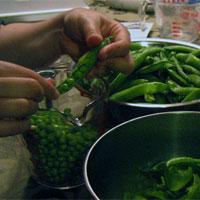 Under the forces of our formidable and complex agricultureal system, can we satisfy our conscience while we feed our families? Award-winning authors Barbara Kingsolver and Michael Pollan turn their lives towards questions many of us are asking about our food. Kingsolver recounts her family's year-long adventure eating primarily what they could grow or raise themselves. Pollan makes the case for a sustainable revolution, from the farm bill to the table.

Resources in this Collection

SHOW: On Being | Length: 51:19 | Audio Format: MP3
Author Barbara Kingsolver describes an adventure her family undertook to spend one year eating primarily what they could grow or...


Lesson Plan

Transcript

SHOW: Word for Word | Length: 53:20 | Audio Format: MP3
Journalist Michael Pollan urges concern about what's in the farm bill. He says agricultural policy affects everything from...