Get tips and instructions for how to incorporate audio content into your classroom.
We welcome your input. Please contact us with any feedback.

Grammar Grater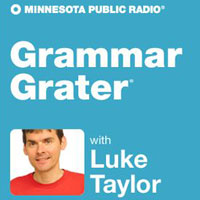 Grammar GraterTM is a weekly podcast about English words, grammar and usage for the Information Age. Because we live in a time of e-mail, blogs, instant messaging, even online product reviews — everybody's a writer. And with the global nature of communication, there's not a single style guide everyone uses. To help sort through some of the confusion, host Luke Taylor and the Grammatis Personae Players take linguistic bugbears and put 'em through the Grammar Grater.

Resources in this Collection